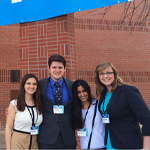 Congratulations to Brianna Rader, Jacob Clark, Summer Awad, and Anagha Uppal, who were among more than 1,000 students across the nation chosen to attend the Clinton Global Initiative University conference. Learn about their innovative ideas for confronting some of the world's most urgent challenges here.

Today, 7:00 p.m., Hodges Library Auditorium
Hear Irish-born author Patrick O'Keeffe read from his new novel, The Visitors. Set in America and Ireland, the book moves back and forth in time and place to weave the story of two families forever linked by love, secrets, and their heritage.
Today, 7:00 p.m., UC Auditorium
Attend a discussion about the intersection between faith and sexuality with Bishop Gene Robinson, the first openly gay bishop in the Wider Anglican Church. Elected Bishop of the Episcopal Diocese of New Hampshire in 2003, Robinson caused a schism within the Catholic Church.
Thursday, 3:00 p.m., The Foundry in World's Fair Park
Learn about different ideas coming out of UT during this pitch competition, a celebration of entrepreneurship and innovation that will reward the winning team and recognize recent startup companies based on UT technologies.
Friday and Saturday, 9:00 a.m., Baker Center Toyota Auditorium
Be a part of the conversation during the Second Annual Disability Issues and Advocacy Conference. The event brings disability scholars and advocates together to discuss issues of respect, justice, equality, and policy for people with disabilities.


All events are free unless otherwise noted.
Visit the UT Event Calendar for more events and activities on campus.
For more news and updates, visit the UT Current Students page.
Visit go.utk.edu for a list of campus groups and clubs.