News Feed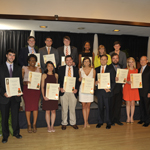 Congratulations to fourteen seniors who were honored with the Extraordinary Campus Leadership and Service award at the Chancellor's Honors Banquet last week. Learn all about their accomplishments on the Chancellor's website.
It's time for you to evaluate your instructors as the semester comes to an end. Your opinion makes a difference and is important to your instructors and fellow students. Your evaluation will remain anonymous. The spring semester evaluations are available through midnight tonight.
Congrats!
Congratulations to senior Carson Hayes who was a featured solo pianist at a special concert at New York's Carnegie Hall this past Friday. He is a piano performance major under the instruction of David Northington, a professor of piano in the UT School of Music.
Reminders
ReVOLve Out helps reduce the waste produced during the end-of-year move out. Donate any of your unwanted items like school supplies, household items, cleaning products, clothing, and carpets in your residence hall lobby now through May 9.
The UT Libraries' Map Collection is relocating, making room for more study space and overflow seating for One Stop on the ground floor of Hodges Library. Map Services closes May 6 to begin the move.
Volunteer
Out and about in Knoxville
Volunteer during the Knoxville Museum of Art's Family Fun Day from 11:00 a.m. to 5:00 p.m. on May 4. Volunteers will help with set up and clean up and assist children with hands-on art projects and face painting.
For this and more on- and off-campus volunteer opportunities, visit Sign Up to Serve.

Today, 11:00 a.m. to 2:00 p.m., Presidential Courtyard
Come to Presidential Courtyard and tie dye an item during the UT Libraries Tie Dye Day. Bring your own items or grab some shirts that will be provided to tie dye.
Today, 3:00 to 5:00 p.m., Career Services
Join Phi Eta Sigma for their semi-annual Study Break. Eat, relax, watch a movie, and grab some free school supplies.
Today, 10:30 p.m. to 12:30 a.m., Black Cultural Center, $3
Take a break from studying for finals and enjoy a pancake breakfast. Food will include pancakes, eggs, turkey bacon, and hashbrowns.
Dates & Deadlines
April 28: Study Day
April 29-30, May 1-2, 5-6: Final Exams
May 7-10: Commencement Ceremonies
May 8: Graduate Hooding

All events are free unless otherwise noted.
Visit the UT Event Calendar for more events and activities on campus.
For more news and updates, visit the UT Current Students page.
Visit go.utk.edu for a list of campus groups and clubs.
Vol Update is an e-newsletter sent for the benefit of current UT students. Submissions are welcome from students, faculty, and staff regarding upcoming events, honors, opportunities, and other news.
To submit an item, complete this form. E-mail us at volupdate@utk.edu with questions.