Fall semester is just around the corner and I look forward to welcoming you to campus. I plan to see our new Vols at several of the events we have planned during Welcome Week.
The next four years will transform your life, and I encourage you to make the most of this wonderful opportunity.
We look forward to welcoming you to our Volunteer family. I will see you in a few weeks.
Jimmy G. Cheek
Chancellor
Share with Us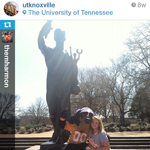 Get social with us! Find UT on Instagram, Pinterest, Twitter, and Facebook.
Show us what you're bringing to campus with #newvols. We'll share your most creative must-haves!

Campus Traditions You Need to Experience - Sunday, August 17:
New Student Picnic
The New Student Picnic kicks off a night of UT traditions. Meet your friends for food and fun. Following the picnic, there will be a processional to Torch Night.

Torch Night
This ceremony is a UT tradition since 1925. It's a special and inspiring event to welcome new Vols.

Night in Neyland
Following Torch Night, the evening continues with Night in Neyland, a Big Orange welcome held in our stadium, the largest in the SEC. Learn some of the best-known Vol cheers and chants, sing "Rocky Top," and more.
Check the Welcome Week website closer to move-in day for specific times and locations of the above events.
Dates & Deadlines
August 16: First-Year Students Move-In
August 18: Fall 2014 Fee Payment Deadline
August 20: Classes Begin
VolShop Store Hours
August 16: 8:30 a.m. to 7 p.m.
August 17: 10 a.m. to 6 p.m.
August 18–22: 8 a.m. to 6:30 p.m.
One Stop Express Student Services Hours
August 16 and 17: 1 to 5 p.m.
August 18–22: 8 a.m. to 5 p.m.
All events are free unless otherwise noted.
Visit the UT Event Calendar for more events and activities on campus.
For more news and updates, visit the UT Current Students page.
Visit go.utk.edu for a list of campus groups and clubs.