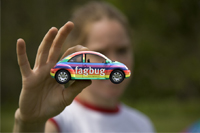 Erin Davies was attending an event in support of Lesbian, Gay, Bisexual and Trans-gender rights when she walked back to her car and discovered her Volkswagen Beetle had been vandalized – someone had spray painted FAG across one side and U R GAY on the other.

Davies was shocked and angered, but rather than simply have her car repainted, she chose to use the event to raise public awareness of hate crimes against the LGBT community. Davies mapped out a road trip visiting 58 cities across the United States, some with supportive LGBT communities and others in locations where anti-gay hate crimes had occurred in the past.

Davies brought along a small camera crew to document the reactions to her defaced automobile, and Fagbug is a documentary that charts the progress of Davies' trip across the country, as well as recording how people responded, both positively and negatively, to the provocative statement presented by her car.

http://www.fagbug.com/
Trailer: http://www.fagbug.com/trailer.htm
Trailer: http://youtu.be/ivst05_e7GU
Can't make the showing? Watch the full film: http://topdocumentaryfilms.com/fagbug/
Wednesday, 23 January, 2013
---
Contact:
Donna Braquet

Phone: 865-974-7803
Website: Click to Visit

---
Cost:
Free and open to the public
Categories:
---
Save this Event:
iCalendar
Google Calendar
Yahoo! Calendar
Windows Live Calendar
---
Share this Event:
Email to a Friend
More...
Hodges Library Auditorium