NEWS FEED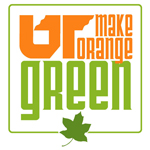 Our campus community has worked hard to "Make Orange Green" by reducing the environmental impact of campus operations. From programs like the Eco-Vols and the Mug Project to campus-wide energy conservation and recycling, our community is making a difference. To get involved, visit Make Orange Green.
Take a look at the Big Orange Green Guide for sustainable living.
Stay Sharp, Be Aware: Protect Yourself in Emergencies


It's National Emergency Preparedness Month. Visit UT's safety page to ensure your safety in a variety of emergency situations. This month, we will be publishing weekly tips, and many departments on campus will be promoting campus safety and emergency preparedness activities.
REMINDERS
Order Clarence Brown Theatre Tickets Online or by Phone
Enjoying UT's professional theater productions just got easier! You can now call or go online to order tickets to performances throughout the school year at UT's Clarence Brown Theatre. A special student portal has been set up so you can order tickets from wherever you are. You can also order tickets by calling 865-974-5161.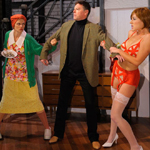 UT students are able to purchase one discounted ticket to each of the eight CBT productions. UT student ticket prices for CBT shows are free for preview, $10 for opening night, and $5 for all other performances.
The first production of the school year, Noises Off, has a preview performance this Thursday at 7:30 p.m. The show opens this Friday at 7:30 p.m.
RecSports Complex Now Open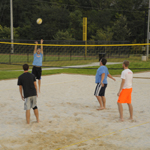 Students gathered at the new RecSports Complex this past Friday to celebrate the opening of the thirty-eight-acre recreational space and have the chance to be some of the first students to play on the brand new fields. The night included a short ribbon cutting ceremony, dinner, games, and other activities.
The new complex includes two softball fields, four turf fields, four natural grass fields, and three sand volleyball courts. The space is available for a number of UT activities throughout the semester, including intramurals, sport clubs, and informal recreation.
You can now register for a number of fall sports on your own or with a group of friends. View a full list of sports offered this semester.
CAREER OPPORTUNITIES
Tennessee Governor's Management Fellowship
Governor Bill Haslam has created a two-year management fellowship to work directly with senior state officials. The fellowship is open to undergraduate or graduate students who have or will earn degrees between December 2011 and August 2014. Application period is September 1 to October 30 with final selections completed in January 2014.
INVOLVED
Nourish International Interest Meeting
Do you like to travel? Want to make a lasting difference in another country? Nourish International is committed to relief and outreach, alleviating poverty through projects each summer in other countries. This past summer, UT's Nourish chapter traveled to Guatemala. Find out more at 7:30 p.m. today in Humanities Building Room 70.
VOLUNTEER
On-Campus Opportunities
Become an I-Vol at the International House
If you're interested in becoming a volunteer with the International House on campus, apply to be an I-Vol! Meet students from other cultures and gain experience assisting with student programming. Applications are due by 5:00 p.m. tomorrow.
Out and About in Knoxville
HoLa Festival Volunteers Needed

Need volunteer hours and want to learn more about Hispanic culture? The HoLa Festival's fourteenth annual celebration will take place from 11:00 a.m. to 6:00 p.m. on Saturday, September 21. Contact Amanda McRoy.

Help Knoxville Youth at the Boys and Girls Club
Love spending time with children? The Boys and Girls Club is looking for volunteers weekly to help with academic enrichment and homework help activities with the youth. Learn more about this local nonprofit and submit an application.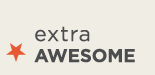 Students gathered in front of Tyson Alumni House last Wednesday for the UNITE tailgate with their Beat Austin Peay shirts!
Chancellor Cheek and Smokey show off their orange gear during the #BigOrangeFriday shoot!

SHARE WITH US

Share pics of what you did on campus and around Knoxville on your three-day weekend by tagging @UTKnoxville on Twitter and Instagram!
TOP TWEETS
@mariannesaine "And on Fridays, we wear..." ORANGE:) #VFL #GBO #UTK17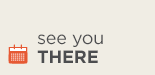 Diversity Dialogues
Today, 7:00 p.m., Black Cultural Center
Join the conversation at Diversity Dialogues, a series of conversations led by faculty, staff, or a facilitator or panel that discusses critical topics of race, culture, gender, stereotypes, multiple identities, diversity, and multiculturalism.
Sociology Film Series Presents: The Trial
Today, 7:30 p.m., Hodges Library Auditorium
This classic novel by Franz Kafka was adapted to the screen by Orson Welles in 1962, and offers a dark look at modernity and the unsettling relationship between guilt and innocence, power and the state, and the collective will against that of the individual.

Nomadic Massive featuring DJ Mike Nasty Concert
Friday, September 6, 7:00 p.m., Humanities Ampitheater
The Cultural Attractions Committee and Central Program Council are proud to present hip-hop group Nomadic Massive featuring current UT student DJ Mike Nasty!
Silver Linings Playbook
Friday, September 6, 7:00 p.m., University Center Auditorium
In this 2012 hit movie, former teacher Pat Solitano moves back in with his parents after a stint in a mental institution and tries to reconcile with his ex-wife. Things get more challenging when Pat meets Tiffany, a mysterious girl with problems of her own.
All events are free unless otherwise noted.
Visit the UT Event Calendar for more events and activities on campus.
Visit go.utk.edu for a list of campus groups and clubs.