News Feed
During finals, campus libraries will remain open additional hours and will host activities to help you relieve some stress, including free chair massages, therapy dogs, and a super-fun photo booth.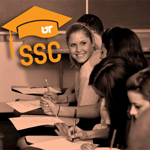 Although fall semester is almost finished, you might already be planning ways for improving your grades this spring. The Student Success Center can help you achieve your goals with tutoring options, academic coaching, and workshops throughout the semester.
Want a chance to win a VolShop gift card? Take this five-minute survey about Student@Tennessee.

Your answers will be anonymous. Your NetID and e-mail address are needed to register to win either a $100 VolShop gift card or one of two $50 cards.
Congrats!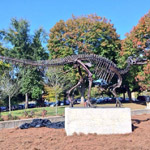 After receiving more than 1,200 votes over the past two weeks, the McClung Museum's twelve-foot-tall dinosaur has a name. The name Monty beat out the two other choices—Voldo and Eddie—by a narrow margin. Monty hopes you can drop by for a visit soon!
Reminders

Students registered for spring classes will be able to view tuition and fee charges in MyUTK beginning tomorrow. Students who wish to set up a deferred payment plan for spring may do so beginning tomorrow.
Spring payments are due January 6. Access convenient and easy online payment on the One Stop website.
Did you receive the Quality Enhancement Plan survey e-mail last week? Please take a moment to respond. The chosen QEP will focus on an issue critical to improving your learning while at UT. Feedback forums wrap up at 9:00 a.m. Wednesday in the UC Shiloh Room.
There are only two more days left to complete instructor evaluations, so please take a moment to fill out your evaluations. The system closes at midnight on Wednesday.
Involved
Being a resident assistant is one of the most rewarding leadership experiences you can have on campus. This position gives you the chance to meet new people, make a difference in the lives of others, and learn new skills. Apply today to take the first step in drafting your future at UT.

Students concerned about the potential of a future zombie attack have formed a UT Zombie Attack Survival Club. Stop by their table for more information from 5:00 to 7:00 p.m. today in Presidential Courtyard.

Wednesday, noon to midnight, the Commons in Hodges Library and Student Success Center in Greve Hall
Stop by De-Stress for Success for academic and moral support, with tutoring and supplemental instruction offered in a variety of subjects to help prepare for exams. Free food and drinks will be provided.
Wednesday, 3:00 to 5:00 p.m., Career Services, Dunford Hall
Study Break is a semi-annual event hosted by Phi Eta Sigma and is open to all students who need a study break. Students can enjoy free food, relax, and watch a movie. There will also be free school supplies.


Wednesday, 10:30 p.m. to 12:30 a.m., Black Cultural Center
Sponsored by the Multicultural Mentoring Program, the Pancake Breakfast gives students the chance to take a break from studying, socialize with other students, and enjoy a late-night breakfast.
Dates & Deadlines
December 3: Fall classes end
December 4: Study day
December 5-6, 9-12: Final exam period
December 13: Fall Commencement
January 6: Payment due date for spring 2014
January 8: Classes begin
January 10: Disbursement of financial aid
All events are free unless otherwise noted.
Visit the UT Event Calendar for more events and activities on campus.
For more news and updates, visit the UT Current Students page.
Visit go.utk.edu for a list of campus groups and clubs.
Student@Tennessee is an electronic publication sent for the benefit of current students, welcoming submissions from students, faculty, and staff regarding upcoming events, honors, and other news.
To submit, email us at student.attn@tennessee.edu