News Feed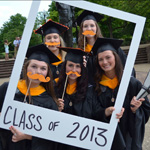 More than 1,800 students will receive their degrees this week. Congratulations to Jacob Hayes, a member of the graduating class, who was selected as commencement speaker. Hayes is an American Studies major from Jackson, Tennessee.
Check out the full schedule of events and other important commencement information.
It's the end of the semester and you've got plenty to do—from studying for exams to heading home for the winter break. One Stop makes it quick and easy to pay your spring 2014 tuition and fees.
Spring payments are due January 6. Make convenient and secure online payments on the One Stop website.
Congrats!
Students in the UT Management Society are supporting Mobile Meals this holiday season. The students raised $3,000, and faculty and staff in the Department of Management contributed another $600–all of which will fund 1,058 meals for seniors.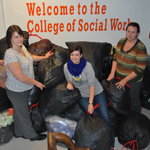 Phi Alpha Honor Society for Social Work students organized the UT Coats for the Cold project, which collected more than 500 coats from the UT community. The coats will be sent to Knoxville Area Rescue Ministries for distribution to needy families.
Reminders
A section of Phillip Fulmer Way from Cumberland Avenue to Middle Drive will close on December 16 for pedestrian bridge construction as part of the Student Union project. Vehicles still will be able to access Middle Drive and the Hill by turning right from northbound Phillip Fulmer Way.
Campus residence halls will close for winter break at 5:00 p.m. Friday. Volunteer Hall and the Apartment Residence Hall do not close. Students must officially check out of their residence hall before leaving.
The VolShop will be buying textbooks back from students through Thursday. Click here for times and locations.
The last day to use fall semester UT Dining meal plan is Thursday, but Dining Dollars are still active. Unused Dining Dollars on your fall semester meal plan carry over to your spring semester meal plan.
Involved
Apply for the competitive research summer program starting January 8. This internship will pay $15 per hour up to $1,800 over the summer for research and projects mentored by UT faculty.
Applications are now available for the OUTreach Ambassador Program. Ambassadors raise awareness on campus about LGBTQQIA issues and represent the LGBT & Ally Resource Center at campus events.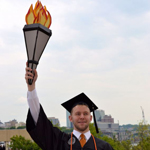 Use hashtag #UTgrad2013 to share your commencement tweets and photos!
See You Next Semester!
We'll be sending out the next Student@Tennessee on January 6 due to the break. Have a fun and safe time during winter break!

Events Around Knoxville This Week
Thursday, 7:00 p.m., Market Square
This fun, casual bike ride tours downtown, Fourth & Gill, and Old North Knoxville neighborhoods. Prizes will be awarded for Best Decorated Bike, Best Decorated Person, and Best Group Theme.

Now through January 1, Chilhowee Park
Explore a forest of lighted trees floating on the lake during the nightly self-guided driving tours through Chilhowee Park until January 1.
Now through January 5, Market Square, $10
Knoxville's only open-air ice rink open every day, rain or shine, except for Christmas Day.
Dates & Deadlines
December 13: Fall commencement
December 23-27: Winter break–university offices closed
January 6: Spring 2014 fee payment due at 4:30 p.m.
January 8: Spring semester classes begin
All events are free unless otherwise noted.
Visit the UT Event Calendar for more events and activities on campus.
For more news and updates, visit the UT Current Students page.
Visit go.utk.edu for a list of campus groups and clubs.
Student@Tennessee is an electronic publication sent for the benefit of current students, welcoming submissions from students, faculty, and staff regarding upcoming events, honors, and other news.
To submit, email us at student.attn@tennessee.edu